Philips 9in1 Multigroom Series 3000 Face,Hair & Body Trimmer – MG3710/65
3 in stock
9 tools
Self-sharpening steel blades
Up to 60 min run time
Rinseable attachments
1 year warranty
Description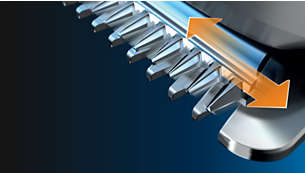 Tempered steel blades that won't break, dull or rust
The self-sharpening steel blades on this trimmer for face and body are reinforced with iron and tempered for maximum strength. This results in blades that stay as sharp as day 1. No rusting. No blade oil needed.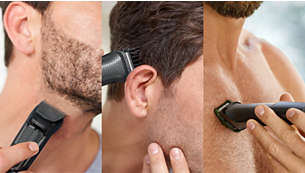 Trim and style your face, hair and body with 9 tools
This all-in-one trimmer conveniently trims and styles your facial hair, clips your hair and grooms your body.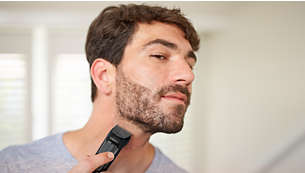 Trimmer edges beard and neck to complete your look
Use the trimmer without a comb to get clean, sharp lines around the edges of your beard and neck. The trimmer's shelf-sharpening blades remain as sharp as day 1, even after 3 years of use.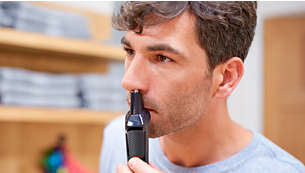 Keeps nose and ear hair at bay
Avoid nicks and cuts, as the all-in-one trimmer quickly removes unwanted nose and ear hair.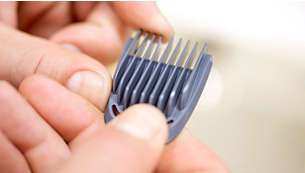 Cut hair to your length
Quickly touch up your face and hair with the seven reinforced cutting guards. 2 stubble combs for 1mm and 2mm trimming, an adjustable beard comb, 3 hair combs at 9mm, 12mm and 16mm, and 1 body comb.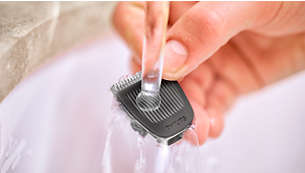 Easy to maintain attachments
Your face and body trimmer is simple to maintain, with non-corrosive blades and water-resistant guards for easy cleaning.
Store it and stay organized
Declutter your bathroom and gym bag, and keep all your attachments in one place, with the small storage pouch for easy organization and travel.
Run time: up to 70 minutes of cordless use per charge
Get up to 70 minutes of cordless use for every 16-hour charge.