Panasonic vacuum nose trimmer – ER430K
3 in stock
Vacuum system that whisks away hair clippings
Use wet or dry and head is washable for easy maintenance and is fully immersible
Eronomic design makes it easy to hold and position
Dual-Edge hypo-allergenic 60-degree blade cuts cleanly without pulling
Operates on 1 "aa" battery (not included) for 90-minute operation, includes travel pouch and protective cover
1 year warranty
Description

Clean, Precision Trimming for Nose and Ears
Portable and battery-powered, the Panasonic Nose Hair Trimmer and Ear Hair Trimmer ER430K with Vacuum Cleaning System neatly trims away ear, nose and eyebrow hair, and details mustache, sideburns and beard, while a micro-vacuum system collects clippings for simple clean-up.
Dual-Edge Blades Provide a Clean Cut

The uniquely curved, dual-edge stainless steel blades design cleanly cut nose, ear and other hair entering the trimmer from both sides and top, leaving the right amount of hair in the nose to preserve natural filtering. And, blades cut using a rotary action for more efficiency.

Smart Vacuum System Makes Clean-up a Breeze

While using the Panasonic Nose Hair Trimmer, a micro-vacuum system collects hair clippings, to ensure less leftover hair on your face and countertops.

Safety Cone Helps Protect from Cuts

An outer safety cone guides hair into the blades and prevents the blade itself from coming in contact with the skin to protect it from cuts or injury.
Designed for Easy Handling

Designed to fit naturally and comfortably in either hand, the ER430K uses a curved, ergonomic design for ease and comfort and a sure-touch grip to provide total control as you cut, clip, shape and trim.

Washable with Vortex Cleaning System

Fully immersible in water, the Panasonic ER430K Nose Clipper cleans fast. Simply power on and hold tip under running water to rinse out hair clippings. Body also washes clean under running water. A cleaning brush is included to remove stubborn hair particles.

Use Wet or Dry

A waterproof design means it performs just as efficiently dry as it does wet., so you can use in the bath or shower, or over the sink or while on-the-go.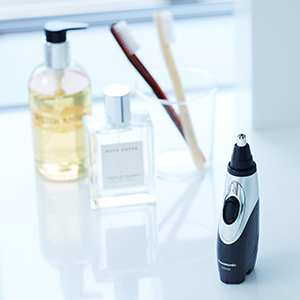 Additional Details
With its portable, ergonomic design, the lightweight (less than 4 ounces) Panasonic ER430K Ear & Nose Trimmer fits neatly into bags and luggage for easy use while traveling. A travel pouch is included for travel and storage, and on-the-spot maintenance.
Single Battery Convenience
For portability and convenience, this Panasonic nose clipper for men and women is powered by one AA-size battery (single use or rechargeable, not included) for nose and ear hair trimming, face hair removal, eyebrow shaping, upper lip hair removing, and for use as a mustache and beard detail trimmer anytime, anywhere.
| | | | |
| --- | --- | --- | --- |
| | ER430 Nose Hair Trimmer | ER-GN70 Nose Hair Trimmer | ER-GN30 Nose Hair Trimmer |
| High-Powered Motor, Smoother Cutting | No | Yes | No |
| Vacuum System | Yes | Yes | No |
| Easy to Clean | Yes | Yes | Yes |
| Dual-Edge Blades | Yes | Yes | Yes |
| Safety Cone | Yes | Yes | Yes |
| Wet/Dry Use / Washable Design | Yes / Yes | Yes / Yes | Yes / Yes |
| Trim Time / Battery (not included) | 90 min / 1 'AA' Battery | 40 min / 2 ?AAA? Battery | 90 min / 1 'AA' Battery |